Hello
Some of you may or may not be aware of it, but S&W at one time offered Rifles that they did not produce. The rifles I speak of were made by Husqvarna of Sweden. These rifles were offered in the Mid to late 1960's time span and when they came in with the Gun Control act and stiffer Import Regulations in 1968 it Killed the Importation of any More Husqvarna rifles. later on, S&W did offer other rifles before making their own and these came from Howa of Japan. I had always Lusted for a Husky rifle but had not seen one to purchase. I came across a Nice hard to find Mannlicher full stock model in 30-06 caliber on Gunbroker.com. I contacted the seller and asked him to do a buy it now and we negotiated a price we both could live with. I sent the payment and he shipped the rifle through UPS.
It arrived Four days later and
I was sick at the sight of it
when it showed up at my FFL Guys. Apparently
UPS had completely destroyed this rifle in shipment
and now I was out my money and a very rare rifle. It Looked to me like it was run over by
a Fork truck
to get the damage it suffered. The stock was
snapped in half
and the box showed where
the bolt handle had been poked right through the box.
The action was
so smashed it would not cycle
, and I feel deep down this damage may have been done
on purpose by an Anti-Gun person but who ever did it knew Damn well they did it !
The seller returned my money and I shipped the destroyed rifle back to him, but I was still sickened by it all. Luckily I found another one, but this one was not a Mannlicher style but
a new in Box Unfired Sporter model also in 30-06 caliber.
I contacted the seller and shared with him my story of how the Mannlicher got destroyed in shipment and he decided to put it on hold until my refund from the first one came back.
It showed up at my FFL Guy's Last week and is shown below. I Placed
a Vintage Weaver K-12 Target scope
on it and hope to get on the range to shoot it this week. I have been told that there were only about
1200 of these Husqvarna rifles ever imported to S&W
so I was very Lucky to have ever found one. The wood is some of the Nicest I have ever seen and it is made of
Beech
. The forend is
Rosewood
and the
checkering is hand cut
. The fit and finish of this rifle closely resembles
a Swiss Watch in quality
...Now I have a mate for my S&W Howa Imported semi auto shotgun... The Moral of the Story is, Do Not use UPS Period... :evil: Regards, Hammerdown
The Mannlicher as I bought it
An Original Add for the Husqvarna Imported S&W Rifles Marketed through a company called Tradewinds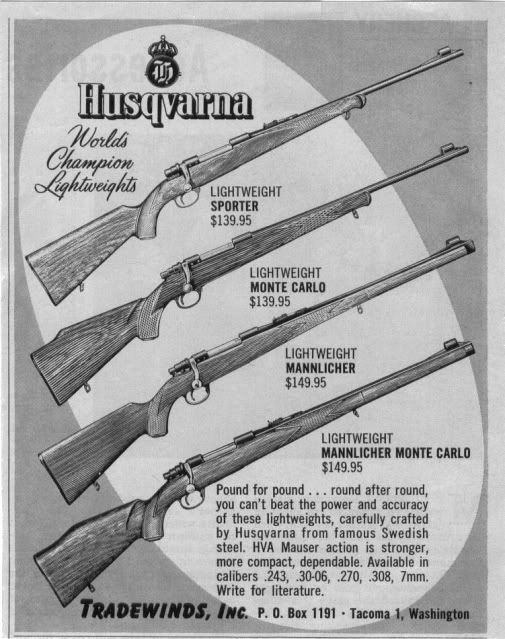 The UPS Destroyed Mannlicher Rifle as it showed up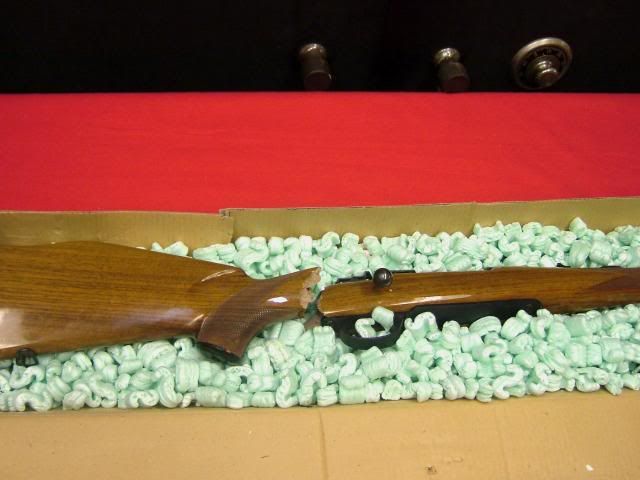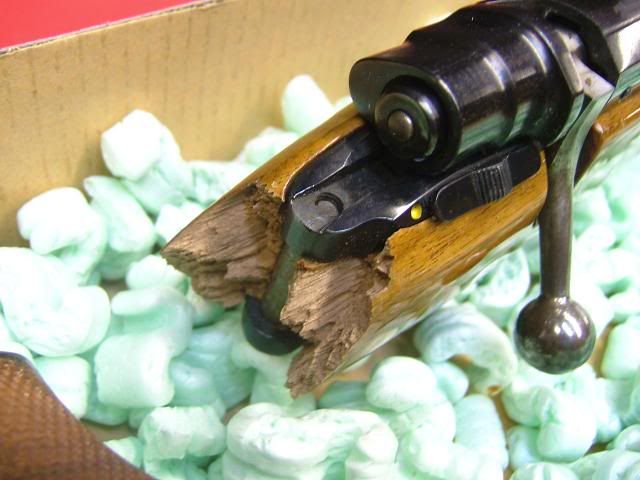 The Sporter Replacement rifle