Discussion Starter
·
#1
·
Hello All
I was in a swapping Mood a couple of weeks ago, and traded into this N.I.B. Model 617-6. The Gun Dealer shared with me that not one Person showed any Interest in it. That did not shock me as it Looked Kind of Homely with it's Good Year grips and flat stainless finish. I have always had a slight Interest in the model 617, but Like most others the $689.00 Price tag was a turn off to me for a Butt Ugly gun.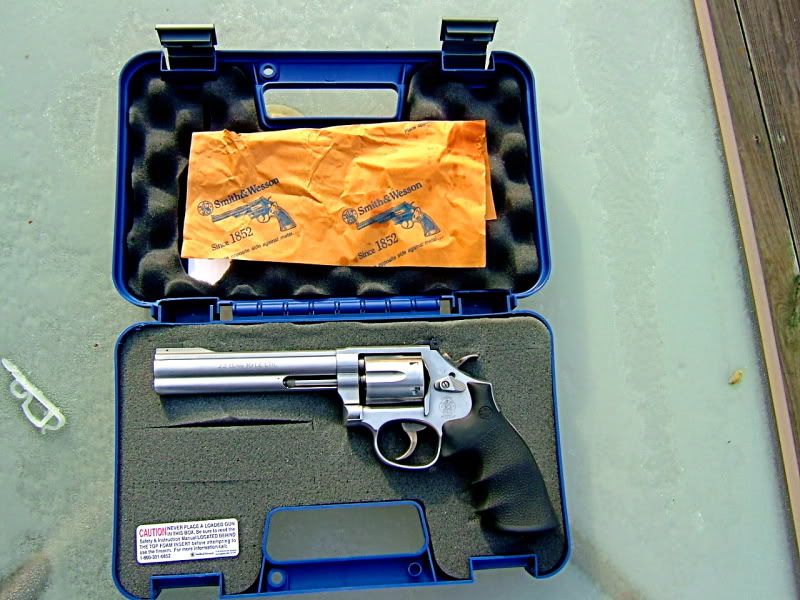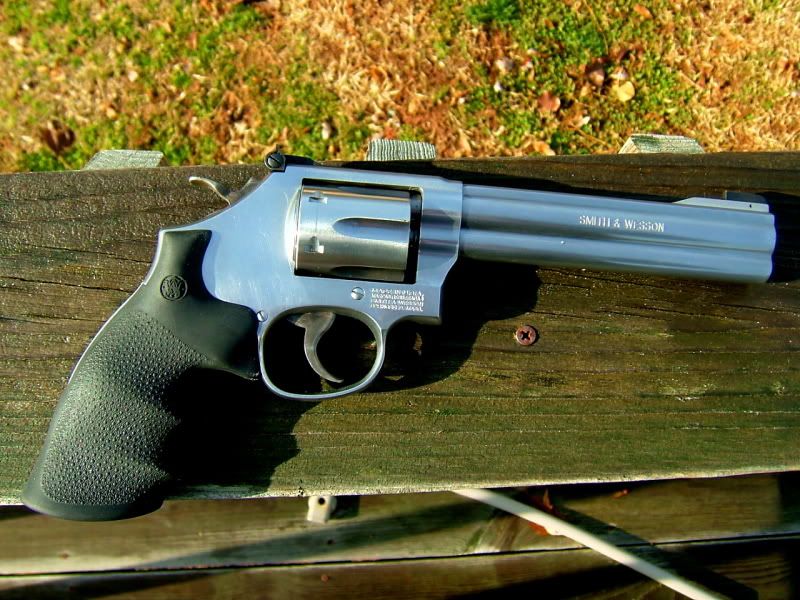 The trade was Great for me so home it came. I can't leave nothing alone, so I took the Gun down to the bare frame as shown. The Internals seemed well finished compared to my Old School K-22's that show Lots of machine Milling marks in the main frame. The rebound slide was rougher than a Cob so I Polished it along with where it sits along the lower & Back side of the frame. I then Polished the trigger and hammer studs, and applied a Little Corrsion-X to it and closed it back up.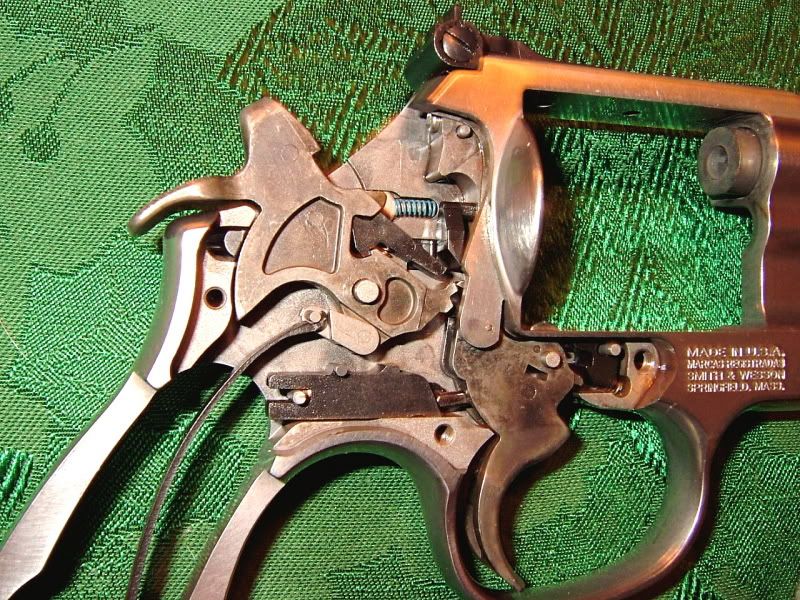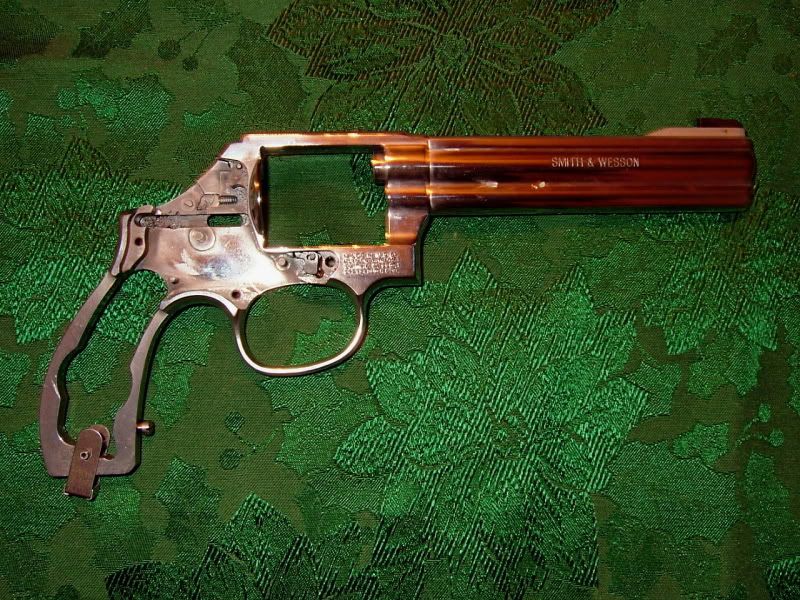 I sat there Looking at the factory dull stainless Finish of this revolver, and felt it deserved to Look a Little better, so I took some 3-M 2000 grit sandpaper and Lightly sanded it all over. I Placed a half Inch Target dot over the S&W Laser etched trade mark to keep it looking good, and Polished it with a soft Towel and Mother's Mag wheel Polish. I Placed it back in the safe along My classic K-22's but this one sure got the Ugly Duckling award.
I took it to the range the following Morning and at 24 Degrees I did not spend a lot of time there. It surprised me as it seemed to group Better with using the New CCI-Velocitors, compared to the Older CCI-Mini-Mags.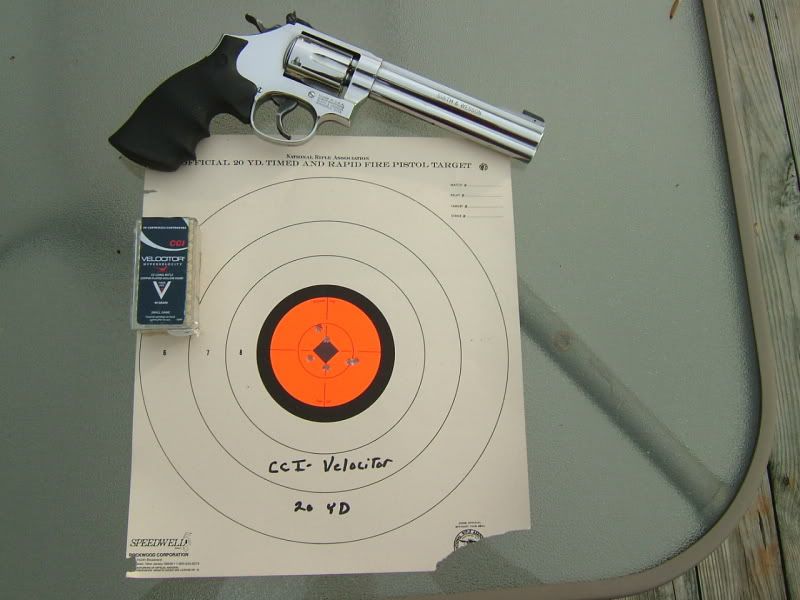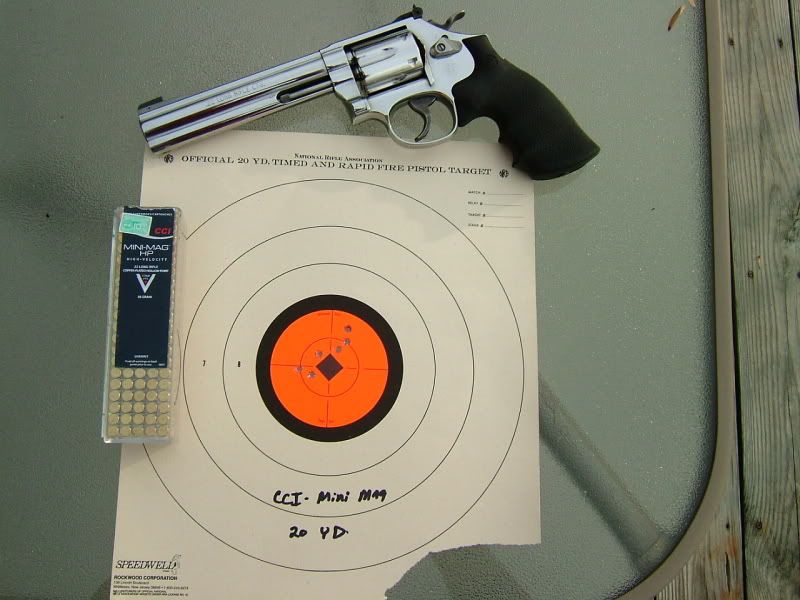 I got back home, cleaned it, and made a decision it needed some Wood grips. I contacted eagle Grips by Phone and asked for a set of their Reincarnated S&W Coke Bottle Profile Smooth Presentation grade Target grips. They do not show these grips on their Web page so I asked for a hand selected pair with Good Grain Definition, and that added another $10.00 rounding out the Total to $88.45 shipped.
Five days later they arrived and I was excited when I opened the Nice Blue Eagle Velvet bag they shipped them in, Until I saw what they Looked like. These to me were not even close to the Original Coke Bottle grips S&W Offered in the late 1950's. To start with, I ordered Rosewood grips, and these were Orange, not dark purple like the Rosewood I have in my factory Offered Grips.
They had a slight Palm swell on the right Panel but No Palm swell at all on the left Panel, Like the Originals had. They were a Lot thicker than the Originals and lacked that oval shaped bottom, along with the slight Bell shape we all Learned to love on the Original grips. I left them on the gun for one day, But knew I was going to have to change these to suite me...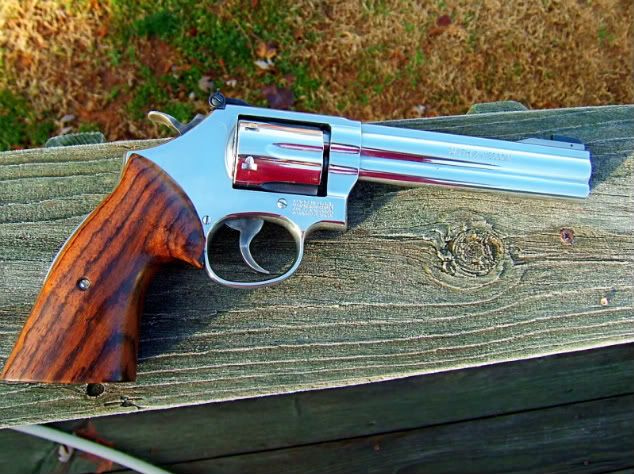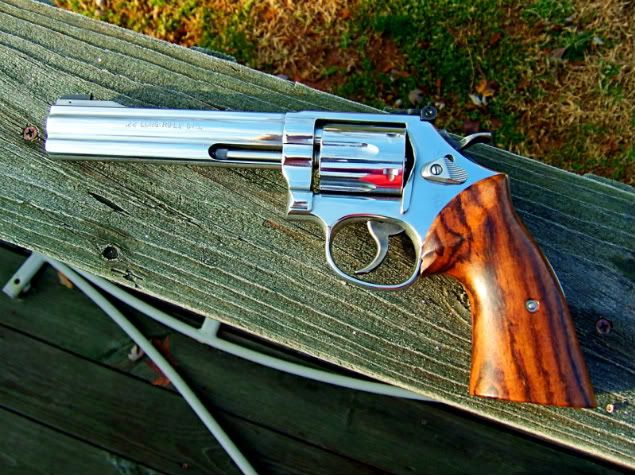 I sifted though my S&W Goodies and Located a nice set of pre-War factory medallions, which were a Lot larger then the Later ones used. I Harvested them out of the well worn wood service grips they were in, and took my Brand new Grips and placed them in my Drill press Vice for Drilling. I used a Forstener Bit and sunk the holes needed for the emblems.
I then took them to my wood workshop and began the slow Tedious process of shaping them into what I felt the Original Coke Profile grips looked and felt like. Four hours later, I had them done with a semi Gloss hand rubbed finish. They Now felt better in my hand and looked closer to what they were supposed to be from the Start. I just can't leave nothing alone as my Wife says... Hammerdown