Discussion Starter
·
#1
·
SUREFIRE WEAPON LIGHT
RECHARGEABLE CONVERSION
345 LUMENS
TWO HOURS RUN TIME
$175 shipped
Hi guys,
I have made a rechargeable conversion of a Surefire 6P flashlight, into a weapon light of 345 lumens.
You can mount this baby in a 5.56 mm a 50 caliber or a shotgun, it will shrug recoil no matter what caliber you shoot.
How come?
I have machined the interior of the Surefire body, to accept the use of a premium quality Lithium Ion rechargeable battery. This machining operation left a lip of metal that trap the battery and make it immoveable.
No matter how strong is the recoil the battery is trapped inside the body with no place to go. Others lights allow the battery to move forward under recoil and batter the lamp.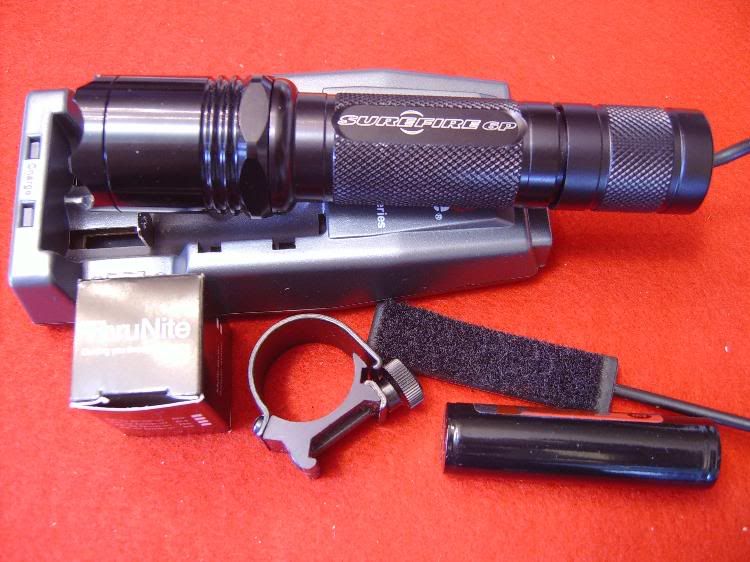 The special machined Surefire body is a part of the equation.
The Lamp is a new one it is the new Cree R-5 and output and incredible 345 lumens (well more than any Surefire weapon light)
The tail cap has a remote cable switch with pressure pad, so you can place it on the stock of your rifle or shotgun, under your thumb. Yes thumb pressure will activate the light.
Usually this type of light uses 123's batteries, they go fast under the power of 345 lumens, so we opted for a long run time battery, rechargeable, that will last you close to 2 hours of run time.
Moreover, when you are unsure of how much battery juice is in the battery, just pop it into the charger and you get a full charged battery, ideal if you practice much night shooting with your AR.
You cannot do that with 123's primary batteries unless you are willing to dump expensive half used batteries.
Li Ion technology will provide extend use if you don't use the light, an occasional full top charge every 5 months will keep the battery at full capacity.
We have used a crenellated bezel up front, but I also have available a Z-32 Surefire bezel with no crenellated, if the customer so desire.
I provide the light with a Weaver ring, so you only have to attach it to a Weaver or Picattiny mount.
E-mail me if you want to mount it on a sporting rifle and need to know which mount to use and where in the rifle to put it.
I provide the charger with a a/c d/c cord, so you can also charge from your car.
Charger good for 110 to 240 volts, I provide plugs for Australian, European or UK if necessary
$175 shipped in the USA
$190 shipped International
If you are not interested in the rechargeable system, I provide the light with two 123's batteries.
In that configuration the light is $135 (With curly cord pressure switch and Quick Detach lever mount)


PAY PAL at:
jcharles11784(at)yahoo(dot)com
Also write me a this e-mail if you need more information or want to pay with money order.
If you PM me here, it will take longer to answer you, as I am working away from the computer, while e-mails I always can answer from my cell phone.
Thank you for looking
Watchmaker