Discussion Starter
·
#1
·
Some of the members have seen these sights and asked for more info ion them so I thought I would give some history and my opinion of their worth.
I have used these sights exclusively on my carry guns since 1992. I made them from a Chip McCormick rear sight so when finished they would be a drop in to the rear sight notch in the slide. I cleaned out the V or U notch and made the base to accept a piece of 1/4 inch tubing that I then welded in place and polished and blued.
I have seen some like them for the Glocks and others but the hole is too small to be as quick and accurate as you will need your sights to be in an emergency. The 1/4 in. arperture is IMHO the exact size and it works with any standard, tritium front sight. The accuracy was perfect without having to change a thing.
These ghost rings are not bullseye match accurate, but for man size targets they are unequaled by any sight that I have used since 1963. If you have the front sight ANY place inside the rear arperture, you will cut meat out to 30 feet, period.
I know all of you who are self defense conscious are practicing enough every day to be able to jerk your pistol to any object in your home and then freeze and find your sights squarely on the object. If not, then keep practicing.
I am fortunate, I own the indoor range and I help others shoot and learn to shoot every day of my life. I therefore shoot many times more than most will ever shoot in a lifetime. And still I walk from room to room in my home when moving my firearm from one room to another and practice by doing as I just said. so it gives me constant confirmation. I even do it in the dark and then have the wife flip the lights on and check to see how my sights are lined up. there again I am fortunate as my wife likes to practice once in a while also. So both of us stay tuned to the firearms we carry and have a lot of fun doing it.
the sights on the two guns are different by virtue of not having the rear sight slots cut and filled with tritium on my new lightweight 9MM Commander. The first Lightweight Commander 45ACP and a govt. Springfield 9MM had the rear sights milled and filled at Trijicon in 92. But they also sent me a letter saying they could not do these again as they were violating something the nuclear regulatory people said was illegal. So they are the only ones that were or will ever be done.
However I found out very soon thereafter that the rear sights do not need to glow, ever, it is or was a waste to have done it. I went to a H.I.T course at Thunder Ranch in 94 and found out during the night course as soon as I found my front dot, shoot and I was right on the money against every BG for the entire night course including my tower clearing scenario. I was faster and more accurate with every BG than any of the other 19 students. As I pointed out earlier, if you find your front dot and then turn on the lights you find you are centered in the rear and consequently you just do not miss at close quarter combat distances.
This is my old Lightweight Commander and my new Caspian (homemade) lightweight Commander. Notice the rear sight on the old 45ACP has the two slots half way up the face of the rear ghost ring. The new one does not although the ghost ring is made the same way I did the old ones years ago.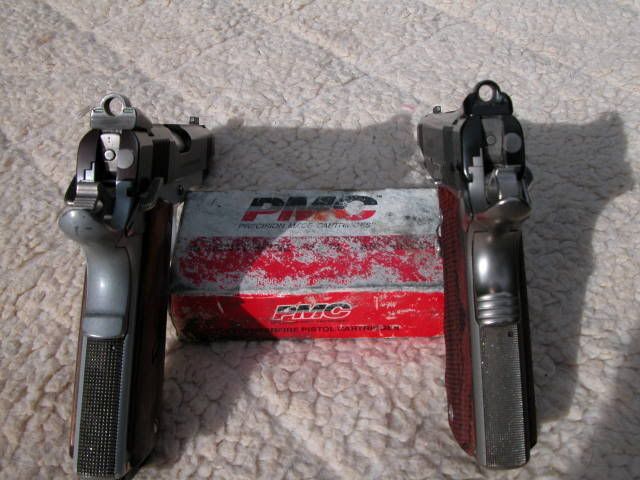 I built the new one because I wanted to (had to change) change from 45 to 9MM due to bad authritis making my hands and shoulders recoil sensitive. I built it using Caspian frame, slide and Kart barrel then Wilson internals and fitted them.
myself.
This is both guns with the new one having the Robar, Roguard top and the NP3 bottom. I have over 200,00 rounds through the 45, on its' third barrel. The new one in 9MM is at 40,000 and nearly all are my own reloads and not a single glitch,ever. I tried to put every piece the same on the (MM as was on the 45 so I did not have to retrain myself.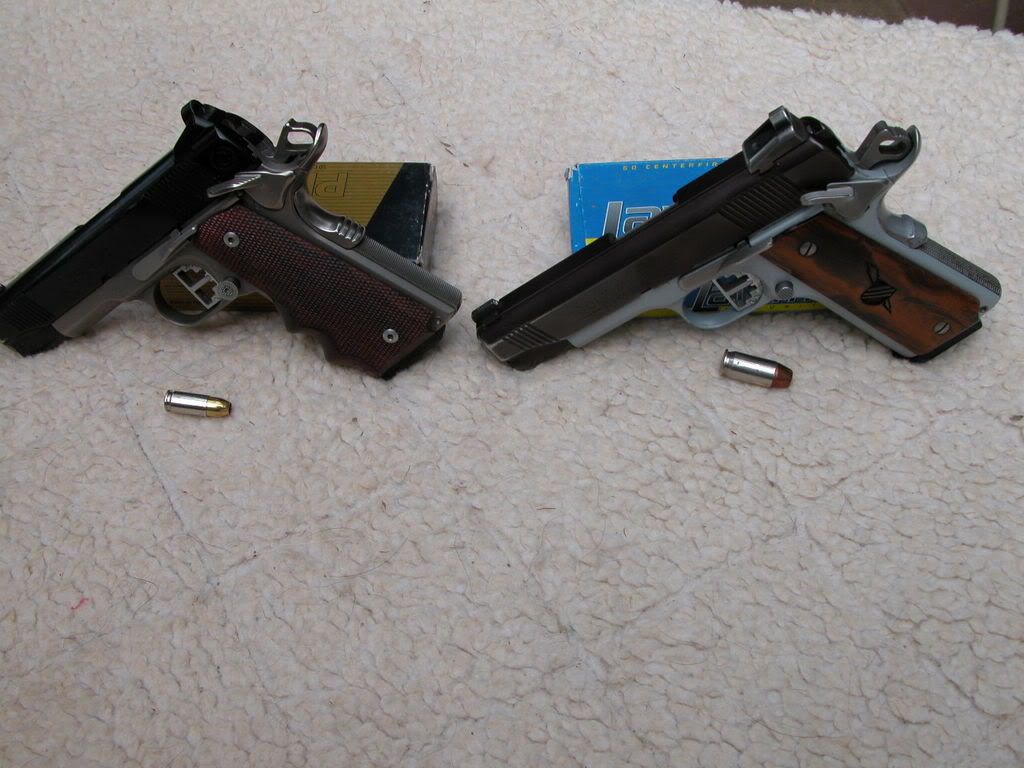 I carry in leather IWB in cooler months and Kydex, IWB in summer to keep from sweating through onto my gun so badly.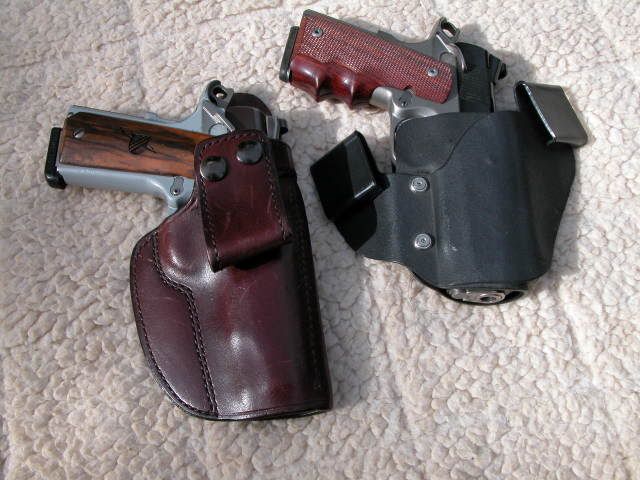 I have had to use my carry firearm to stop a threat and recognize first hand you might say how important the first and perhaps the only shot you may get. I cannot imagine a miss under circumstances such as that. So as so many of the others have prompted, practice has no substitute and there simply is no such thing as too much practice and or training.
Picking the right equipment is perhaps just as if not more important than anything else. I have learned over my 40 plus years of instructing that most of us will try and even own more thanone weapon in our effort to find the "right" one. But id I may, when you find the one that fits you the best, then by all means enjoy all the others as much as you can but spend as much time as you possibly can with that "ONE" to become so familiar you do not have to think about how to use any part of it at any time and under any conditions.
I just turned 65 yesterday and have some serious physical issues but I still practice and shoot and I will for as long as I carry. I owe it to you and your families to be the best there is when I choose to put my gun on and go out among other citizens. I cannot afford to miss and therefore make your loved ones a backstop.
Here are a couple of my targets shot this weekend. On the man target, I shot "mozambique" or two head and one chest as fast as I could double tap. This ws done at 20 Ft, but it just shows that anyone can be fairly accurate if you practice. If I can do this, anyone can do much better.
Thanks for allowing me to ramble. I sincerely hope some of this will both answer questions as well as perhaps help someone make a good decision. you can always PM or e mail me any time.
I believe we have a super bunch of guys and gals here on this forum and I have continued to learn something new nearly every day that I am able to visit this site.
Take care, God Speed to each and every one.
UF